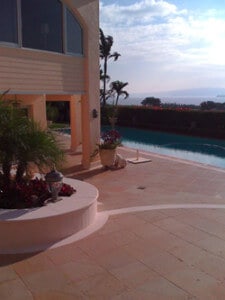 New Life Marble Restoration
cleans, polishes, hones, seals, and repairs your natural stone to make it look as good as the day it was installed. Using only the highest quality products, proven techniques and state of the art equipment, we can restore your floors, countertops, and any other stone surface.
From grinding and honing / polishing to removing stains—even red dirt and mineral staining—to sealing and protecting, your natural stone is in the best of hands…
NEW LIFE for YOUR NATURAL STONE…
New Life Marble Restoration brings 7 plus years restoration in Maui working on some of the finest celebrity homes on the island. Whether yours is an interior or exterior installation, residential or commercial, New Life Marble Restoration can resolve problems from lippage (uneven floor tiles), to dull, scratched surfaces and make your natural stone or tile and grout look as good as new.
GIVE US A CALL… (808) 280-7387.
Site Highlights

What Our Customers Say…

"…Thanks to Steve and 'New Life Marble Restoration' their expert & professional approach and the way they executed the job. I would highly recommend them to any homeowner & contractor." — Isaac Kahalewai Wailuku